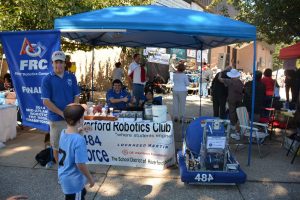 Each year, the robotics team sets up a demonstration booth at Haverford Township Day. Typically, the team shows off the current robot along with some of our side projects, like Henry.
Haverford Township Day is a great way for the team to spread STEM throughout our community. Our booth tends to attract a lot of attention, especially from young children. Years when the robot can shoot balls, we usually have a large group of children trying to catch the ball as shown in the picture below. While the kids are focused on the ball, their parents will typically come up to team members in the booth and ask how their child can participate in robotics. We then either explain how to join the high school team or how to participate in Lego Club depending on the child's age.
You can find us on Darby Road between Chelten Rd. and Princeton Rd.